Posted in Press / News on March 16, 2011 | No Comments
Section 179 Deduction
NEWS ALERT: Feb 25, 2011 Two congressional acts affecting Section 179 in a positive way for this 2011 tax year passed in late 2010 (The Tax Relief Act of 2010 and The Jobs Act of 2010). The newest changes are as follows:
The Section 179 Deduction limit was increased to $500,000. The total amount of equipment that can be purchased was increased to $2 million. This includes most new and used capital equipment, and also includes software.
The "Bonus Depreciation" was increased to 100% on qualified assets. However, this can be taken on new equipment only.
When applying these provisions, Section 179 is generally taken first, followed by Bonus Depreciation – unless the business has no taxable profit in 2011.
Also, many businesses find Section 179 Qualified Financing to be an attractive option in 2011.
Explanation
Section 179 for 2011 at a glance:
2011 Deduction Limit – $500,000 (up from $250k previously). Good on new and used equipment, including new software.
2011 Limit on equipment purchases – $2 Million Dollars (up from $800k previously).
"Bonus" Depreciation – 100% (taken after the $500k deduction limit is reached). Note, bonus depreciation is only for new equipment. This can also be taken by businesses that exceed $2 million in capital equipment purchases.
The above is an overall, "simplified" view of the Section 179 Deduction for 2011. For more details on limits and qualifying equipment, as well as Section 179 Qualified Financing, please peruse this entire website.
An example of Section 179 at work: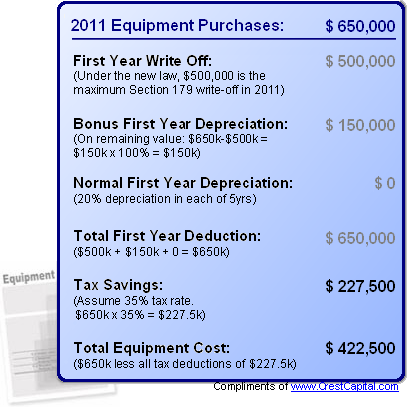 (information from http://www.section179.org/section_179_deduction.html)
Questions on how you can take advantage of this? Contact us at 808.841.7246 or submit an inquiry online.
---
Comments for this post are closed.